The Ministry of Corporate Affairs has introduced new section on Corporate Social Responsibility.

Read more

Aditya Birla CSR Centre for Excellence endorses continual learning when we say that our stakeholders should constantly add to their knowledge base..

Read more

CSR now part of strategic decision-making: Ficci survey, Please click link below for more information

Read more
Publication
Corporate Social Responsibility and Sanitation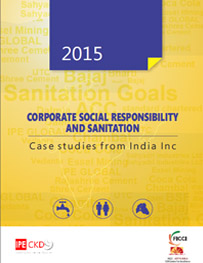 Sanitation in Indian cities is a neglected service; out of the one billion people in the world who have no toilet, India accounts for nearly 600 million.

Slow but steady progress has been made under the Nirmal Bharat Abhiyan (NBA) and now...

In this context, when state governments are struggling for resources, the Corporate Social Responsibilities (CSR) provisions of the Companies Act, 2013, provide the opportunity for industries, corporate houses, private/public limited companies to support the government's Swachh Bharat Mission and effectively upscale planned interventions through channelised and targeted funds.