Publication: FICCI CSR Survey 2016
FICCI CSR Survey 2016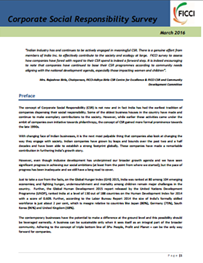 CSR activities are a critical part of the business strategy today and this assumes particular importance in India, since we are the first country to have legislated the need to undertake CSR spending and make CSR reporting mandatory under the Companies Act 2013.
It has been two years since reporting of CSR activity was made obligatory. FICCI conducted a survey to understand how with the execution of this law, companies are integrating CSR reporting into their mainstream business practices.
Survey seeks to provide some useful insights in to the level of engagement of management in CSR implementation, the spending portfolio of companies and their strategies towards project implementation. Survey Profile
The present survey was conducted during the months of January and February 2016 and drew responses from companies belonging to a wide array of sectors. The results are based on about 150 responses. The companies participating in the survey included public sector undertaking, private companies as well as foreign MNCs.
http://ficci.in/events-page.asp?evid=22752